Instructor Biographies
---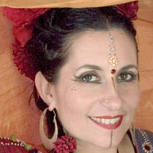 Carolena Nericcio, director and founder of FatChanceBellyDance©, has been dancing for over 30 years. In 1988 she created the concept of American Tribal Style Belly Dance (ATS©), a performance art form using a foundation of Middle Eastern belly dance that has been stylized and adapted for a contemporary American audience. It is a blend of cultural dance influences from India, Spain, North Africa and beyond. Carolena has developed a method of improvisational choreography, using a vocabulary of natural movements and cues allowing the dancers to communicate via gesture when dancing together. The effect is a vibrant thread drawing the audience into the tapestry.

An American Council on Exercise certified personal trainer, Carolena incorporates the science of anatomy and fitness into her classes and workshops. Ten DVDs (performance, instruction and documentary) were produced with the help of a series of grants from the California Arts Council. Most recently she authored a book "Belly Dance, a fun and fabulous way to get fit" for Barnes and Noble publishers.

Her troupe, FatChanceBellyDance©, is a Bay Area phenomenon that has become known around the world. Audiences delight at the exuberance, vitality, beauty and power expressed by the strong and agile dancers. Carolena and FCBD© are regularly featured at major events such as the San Francisco Ethnic Dance Festival and Rakkasah West, and have traveled nationally and internationally to perform and teach workshops in ATS©. As well as dancing at many clubs and festivals, Carolena and FCBD© have produced four theatrical stage shows in San Francisco and offer regular classes in their unique dance style at the FatChanceBellyDance© Studio and Resource Center in San Francisco's Mission District. The studio houses a store containing a wide array of DVDs, books, music and costuming for Tribal Style Belly Dance, as well as an archive of videos, books and photographs from the FCBD© "experience."

For more about Carolena and FatChance, visit their website at http://www.fcbd.com.
---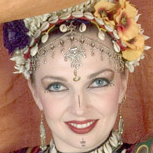 Megha Gavin is a Birmingham, AL native who received her initial training from Carolena Nericcio, director of FatChanceBellyDance© and originator of American Tribal Style© Bellydance in San Francisco, CA where she studied from 1996 to 1998. She is now certified by Carolena to teach the FatChanceBellyDance© format and is the exclusive partner of FatChanceBellyDance©.

After moving back to Alabama in late 1998 she performed briefly in Birmingham, AL before moving to New Orleans in the summer of 1999 where she started teaching the first American Tribal Style© classes in the area. From those classes emerged Devyani Dance Company. Megha returned to Birmingham in 2003 and opened Devyani Dance Center, the new permanent home of Devyani. She has taught well-attended workshops across the United States both individually and with her partner, Carolena Nericcio on the "Tribal:Pura" tour celebrating the partnership of FCBD© and Devyani Dance Company. Additionally, in 2003 Megha taught 5 workshops at the Majma Dance Festival in Glastonbury, England as a representative of FatChanceBellyDance©.

Devyani Dance Co. has performed at numerous festivals, weddings, private parties, gallery openings, theatrical productions and restaurants in New Orleans and Birmingham as well as at festivals across the country. Under Megha's direction, Devyani was nominated for "Best Ethnic Dance Performance of 2002 and 2003" by the Gambit Weekly's Big Easy Committee as part of the New Orleans Tribute to the Classical Arts and Off Beat Magazine'sBest of the Beat Award for "Best Emerging World Band or Performer" in 2002 & 2003. Additionally, Megha has been given the honor of presenting Tribal Style Bellydance to students in two Louisiana school systems and at UAB in Birmingham, AL.

For more information on Megha and Devyani, visit their website at http://www.devyani.net
---
Carolena and Megha self-interview in Katoomba
\
---
Site originally created by Daniel McDeavitt
Site Updated by Margaret Lion
Welcome top graphic by Argotique Graphics found on the Web
Pictures provided by FatChanceBellyDance
February 15, 2012