Welcome to Tribal Village!
Tribal Village has arrived in the heart of the Midwest! Join us on March 10-17, 2012 for a variety of workshops given over seven days. Take one to seven days - your choice! These are workshops and celebrations of dance you will never forget! Leading this week of dance and workshops in traditional American Tribal Style Belly© Dance are Carolena Nericcio and Megha Gavin, two of the leading innovators in this exciting dance form.
DIRECTIONS: Download Finding Tribal Village in Word or PDF format.
URGENT HAPPY MESSAGE:
Carolena Nericcio and Megha Gavin have opened up FIVE new spots in Teacher Training! Email Margaret Lion at ddbdancers@gmail.com to reserve your spot. First come, first served. Cost is $850. For more information about Teacher Training click here.
There are also still Pura and General Skills Spots!
You may register for these spots at the door.
There are still Pura and General Skills Spots!
NEW! Hafla on Saturday, March 10th!!
See Tribal:Pura page for more information!
Flyers! Feel free to print and distribute! Pura & General Skills
Special ISAMEDT NOTICE!! If you are a member of ISAMEDT or student or faculty of Indiana University, email ddbdancers@gmail.com for registration information.
Tribail Village includes:
Special "Duo" Deal: If you register for both days of Pura and General Skills you can take $50 off the total price.
Vending Room - Visit our Vendors page to prepare yourself for shopping!
Location:
Classes and vending will be held in the Kelley School of Business, 1309 E. Tenth Street, Rooms BU 301 and BU 307, Bloomington, IN 47405
To stay informed:
If you have any questions, please email Different Drummer Belly Dancers at ddbdancers@gmail.com
Special thanks to Carolena Nericcio of FatChanceBellyDance© and Megha Gavin of Devyani Dance Company.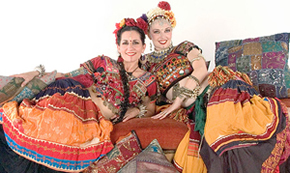 ---
Site originally created by Daniel McDeavitt
Site Updated by Margaret Lion
Welcome top graphic by Argotique Graphics found on the Web
Pictures provided by FatChanceBellyDance©
March 8, 2012