Different Drummer Belly Dancers mixes traditional belly dancing and modern music, borrowing from Folkloric, Cabaret, American Tribal, and Fusion styles of belly dance. We believe the power, beauty, joy, and grace of belly dance can be expressed in our modern 20th and 21st century music. Plus audiences love it!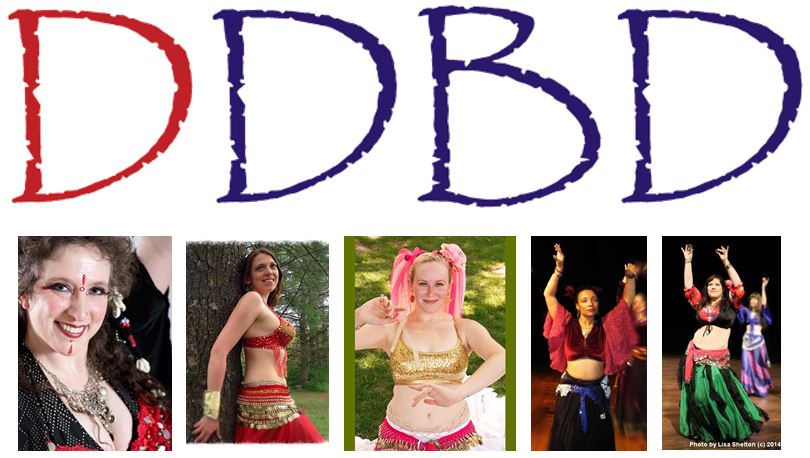 Visit the News page for more information about DDBD.
June 20, 2015 - Arts Fair on the Square! - Downtown in Bloomington, Indiana - Performance Time: 4:00pm Under the Entertainment Tree, South Side of Squre - Downtown Bloomington, Indiana rocks! Come enjoy the sites and sounds of visual artists and craftspeople showing their goods. There is, of course, dancing!! Special thanks to the Bloomington Playwright's Project for organizing this event. Website: Arts Fair on the Square; Bloomington Playwright's Project.

July 30-August 2, 2015 - Gen Con 2015 - Convention Center, Indianapolis, Indiana - Performance Times: TBA - Oh it is time to Game On! people!! Expect a lot of Avengers and Joss Whedone (due to director's obsession). Also July 31st is Harry Potter and J.K. Rowling's birthday so a celebration will be called for too! Come visit our booth, take some classes, watch us dance in the halls, and don't miss our big show before the Costume Contest on Saturday. Oh and don't forget to game. Websites: Gen Con 2015. See you there!
---

"If a man* does not keep pace with his companions, perhaps it is because he hears a different drummer. Let him step to the music which he hears, however measured or far away."

- Henry David Thoreau (1817-1862)

* or woman - Margaret Lion (2008)