Dancer Bios
|Performance | Workshops | Dancers | Featured Troupes | Artsweek | BAAC | Home |
Angie Dintaman - Angie has been a dancer all of her life, studying everything from ballet, to African dance, to belly dance. She has been the troupe director of Tribal Bloom Belly Dance. She has taught American Tribal Style belly dance in Bloomington, Indiana.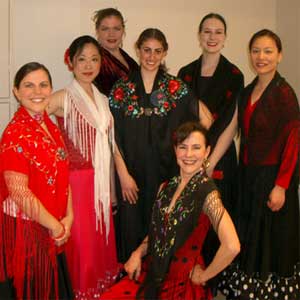 Baila! Baila! - Baila! Baila! is a flamenco dance troupe here in Bloomington, Indiana. Flamenco with belly dance? Absolutely! Power, passion, sensuality and hip movement are part of flamenco as well as belly dance. Bette Lucas is the director. For more about Baila! Baila! visit this link.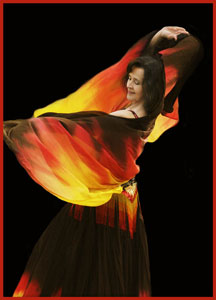 Bette Lucas - Bette Lucas teaches Middle Eastern and Flamenco Dance at the Arthur Murray Dance Studio, and Middle Eastern Dance at IU, at the SRSC. She directs the troupes !Baila !Baila Flamenco and the Caravanserai Dancers. She is a regular dancer at the Greek Islands Restaurant in Indianapolis and at Casablanca Cafe in Bloomington. Bette's Web site.
This beautiful picture of Bette was taken by Yelena. You can visit her site at www.photographerofjoy.com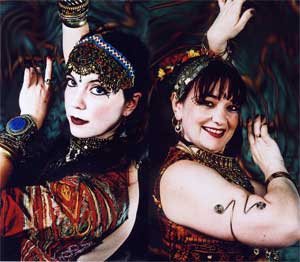 Blue Lotus Tribe - Blue Lotus Tribe is a Tribal Fusion Belly Dance troupe dedicated to the evolution of this exciting and fresh dance form and to bringing original and creative performances to the public. Our tribe begins with the elements of Middle-Eastern belly dance, both modern and folkloric, and combines them with movements from the dances of Spain, India, and the nomadic Gypsy people of Asia and Europe. This fusion of world dance styles produces an unforgettable show that is both unique and fun for the audience. For more information about Blue Lotus Tribe, follow this link and visit their Web site.
Dark Side Tribal - Begin with two women in a midwestern college town. Combine gradually through years of cabaret, folkloric and ATS classes. Season with performances at festivals, clubs and haflas. Stir in a love of all things tribal, a pinch of darker sensibilities, and an interest in pushing the boundries of modern belly dance. Simmer together with costuming fanaticism and a strong communal vision for 12 months. Serve hot with a side of dazzling improvisation, a sprinkling of innovative choreography and a hint of that Lovecraftian je-ne-sais-quoi. Welcome to the Dark Side. For more information about Dark Side Tribal visit this link.
Photo by Libby Bulloff.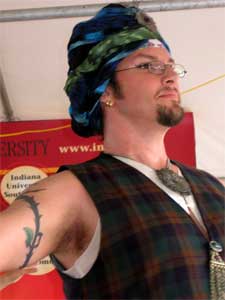 David Tanner - David Tanner aka "Tenacious D" has danced socially and for personal enjoyment since he was a child. One of his families' favorite stories is of watching his early attempts to imitate tap dancers on the Lawrence Welk Show. For solo performances and choreography, David uses a range of contemporary music with special, personal meaning, and blends belly dance techniques with elements of hip-hop and other ethnic dance styles that make for one-of-a-kind experiences. Power and grace seem to flow naturally within his movements and his playful attitude engages every audience. David's performance skills include floor-work, veil, and sword.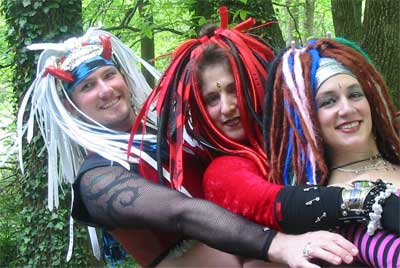 Different Drummer Belly Dancers - Prides themselves on being a troupe that defies description as they work to combine modern music and ancient belly dance steps. For more information about DDBD, follow this link and visit their Web site.
Photo by Mark Ray.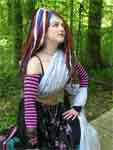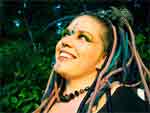 Gratiæ - Thalia Brine and Ann Shaffer have studied tribal and cabaret belly dance for many years, as well as other ethnic dance forms including Greek folk dance and flamenco. Both perform regularly around Bloomington as soloists and as members of Different Drummer (Thalia) and Dark Side Tribal (Ann). They have recently joined forces as the duo Gratiæ, exploring new currents in tribal fusion and dark cabaret.
Photo of Thalia Brine by Mark Ray
Photo of Ann Shaffer by Libby Bulloff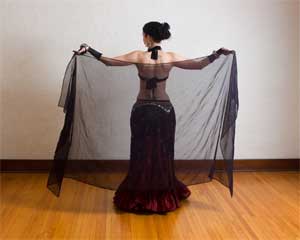 Jeana Jorgensen - Jeana Jorgensen began belly dancing in the L.A. area and expanded her skills in the San Francisco Bay Area, where she took classes with Nanna Candelaria, Rachel Brice, FatChance BellyDance, and Suhaila Salimpour. Jeana is currently pursuing a Ph.D. in Folklore at Indiana University, and since moving to Bloomington, she has been teaching and performing tribal fusion and gothic belly dance. Her passion for experimenting with dance has inspired her to do odd things like belly dance in a corset and pretend she is a butterfly.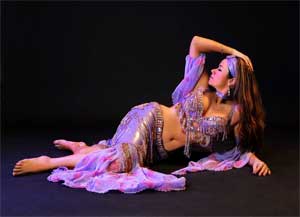 Katya Faris - Katya Faris has been dancing in the traditions of the Middle East for 16 years. Her academic background is in Socio-Cultural Anthropology, which she started studying at Butler University in Indianapolis , Indiana where she received her B.A. Her interest in Middle Eastern music and dance led her to become the principle dancer of Salaam Music and Dance Ensemble from 1997-1999. Since then she has been conducting independent graduate research in the Anthropology, Near Eastern Studies, Central Eurasian Studies and Folklore/Ethnomusicology Departments at Indiana University , Bloomington , Indiana . Ms. Faris is the director of the IU Middle Eastern Dance Club where she teaches beginning students, as well as mentors new performers. She has taught MED at Indiana University 's Student Recreation Sports Center (SRSC) for 4 years from 2002-2006, and is currently performing nationally and internationally. Ms. Faris' goal is to further the education of Middle Eastern dance by pursuing the ethnography of dance performance. For more about Katya go to www.katyafaris.com .
Magda - Has been belly dancing for years and loves the styles of belly dance she learned when she first began. She is particularly fond of veils, canes, and zils.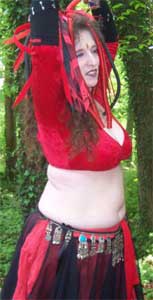 Margaret Lion - Margaret loves belly dancing and had her first lessons at the age of twelve. Margaret has degrees in Theatre & Drama and Instructional Systems Technology from Indiana University. Her dramatic flair and production skills help her create opportunities for her troupe that are often not explored by traditional belly dancers. Margaret teaches belly dance and always enjoys new and continuing students. She is proud to be co-organizer of this event with the Bloomington Area Arts Council, and particularly with Mr. Roger Meridith.
Photo by Mark Ray.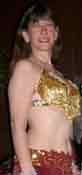 Lois Silverman - Lois Silverman, of Mazikeen Arts and Middle Eastern Dance, started the Belly Dance Program for Bloomington Parks and Recreation four years ago, and currently teaches beginners as well as advanced classes for our fine City. A three-time winner of the I.U. Teaching Excellence Recognition Award, Lois loves introducing students to the transforming magic of the dance, and coaching solo development. Lois' dance influences include Elena Lentini, Artemis Mourat, Bette Lucas, Yiddish and Ladino culture and music, and fairies - especially the Mazikeen! Her specialities include restaurant performance, audience interaction, and performingon the nationalKlezmer scene.