Welcome!
General Skills for ATS has arrived in the heart of the Midwest! Different Drummer Belly Dancers are hosting this event in Bloomington, Indiana. Join us from March 4-7, 2010 for four days of dance you will never forget! Leading these workshops in traditional American Tribal Style Belly Dance are Carolena Nericcio and Megha Gavin, two of the leading innovators in this exciting dance form.
Event T-Shirts Now Available!! Visit Zazzle.com and order!
Also come to the event to shop and visit our Vendors!
Register Now! Go to Register for workshop, and hotel information. The GS-ATS Intensive is SOLD OUT! If you wish to be put on a waiting list, please email Margaret Lion at margaret_lion@yahoo.com.
VENDORS! We have space for you. Contact Margaret Lion at 812-360-0549. For list of registered vendors, click Schedule or Classes and scroll down.
SPONSORS! Want to show your love of belly dance and the arts? Contact Margaret Lion at 812-360-0549 for Sponsor information and offers.
If you have any questions, please email us at Different Drummer Belly Dancers.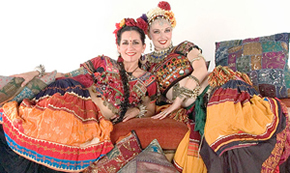 ---
Site originally created by Daniel McDeavitt
Site Updated by Margaret Lion
March 21, 2012