Durga Tour 2009 - Bloomington, Indiana Stop with
Tempest, Asharah, and Tim Rayborn
Sunday, June 7, 2009
Location:
Panache School of Ballroom and Social Dance
311 E. Winslow Road
Bloomington, IN 47401

Map available at:
http://www.bloomingtonballroomteachersacademy.com/html/location.html
Workshops:
Workshop 1:

Danse Mécanique: Elegant Movement for Tribal Fusion Bellydance
11:00 am - 1:00 pm
Instructor: Asharah

Workshop 2:

Adventures In Steampunk!
2:30 pm - 4:30 pm
Instructor: Tempest

Motif - A Dance Experience:
Motif is an experimental gathering,merging music, dance, and ritual.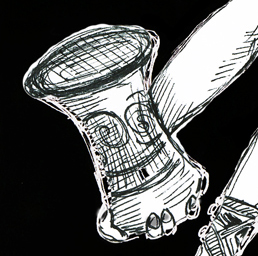 For More Information:
Join us on Facebook.
Download the Motif poster and hang it everywhere.

Site by Margaret L. & Alice D-G. (C)2009
Dark Drummer Productions Presents:
THE DURGA TOUR
2009

Workshops & Dance Experience

Bloomington, Indiana
Sunday June 7, 2009