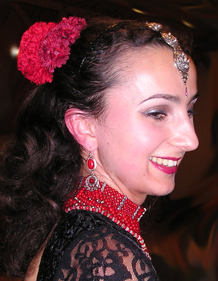 Irina. Since her childhood, Irina takes pleasure in investigating the enigma of life in its different revelations. She takes note of the beauty of nature and human body alike and strives to understand driving forces of things created by nature.
Irina loved fine arts as long as she remembered herself. Drawing and painting had always been her favorite occupation as a child. This hobby grew into a passion of capturing on paper reflections of the world around her. Irina loves to paint watercolors, as well as draw human figures and portraits.
Irina practices Yoga, for over seven years now, goes jogging, and swims in the warm waters of the Black Sea every summer. Her husband jokes that she probably swam and ran more miles in her life than she had walked.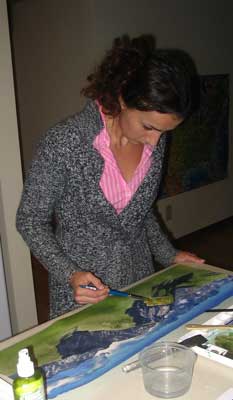 Born and raised in Moscow, Irina has a Master degree in economics and is used to harsh Russian winters and rampant vanity of a large city. Now she, her husband Sergei and their two children enjoy living in Bloomington, a friendly and culture-rich "vacation town". In the fall of 2005 Irina was taking a class of figure drawing at John Waldron Art Center and accidentally stepped in the next door classroom, drawn by rhythmic music coming from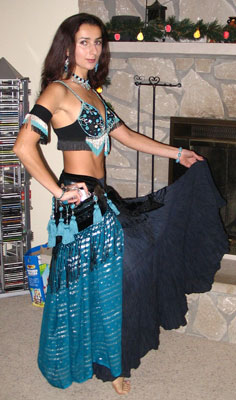 there. She was rooted on spot by the sight of Margaret and her students dancing. That very moment Irina fell in love with belly dancing and started taking the class herself next year. She enjoys fluid moves of the dance and the opportunity to better understand the nuts and bolts of the human body operation. This new prospective complements well her artist's vision of drawing people.
Also belly dancing allows Irina to get away with creating exotic costumes she can dress up in. Her other interests are ancient history and mythology, traveling and camping, as well as Italian language (which she is trying hard not to lose altogether :)).
When not drawing, painting or shimming Irina is working as a computer designer in a computer software development company.
In 2010, Irina was accepted into the Kelley School of Business at Indiana Univeristy.
Irina is proud to be a member of Different Drummer Belly Dancers!
| | |
| --- | --- |
| Margaret & Irina - Photo by Lee Shaw | Irina - Photo by Lee Shaw |
---
Back to Different Drummer Belly Dancers About Us Page.
---
Site designed by Margaret Lion ©2008.
Updated: May 20, 2013
Site designed with Dreamweaver MX 2004