David moved to New York state in the Fall of 2007
David is currently dancing with Zuut.
---
David aka "Tenacious D" has danced socially and for personal enjoyment since he was a child. One of his families' favorite stories is of watching his early attempts to imitate tap dancers on the Lawrence Welk Show. At Southern Illinois University-Carbondale, David studied both modern and ballet as hobbies. In 2003, he took his first belly dancing class with Margaret Lion, and has been hooked since. In 2004, he joined DDBD and continued instruction with Margaret, and then troupe-mate Ann Lee. Since then, he also has studied ATS with Molly Mitchell and Ann Shaffer, both of Dark Side Tribal. David's performance skills include floor-work, veil, and sword. Future goals include mastering zils continued work on poi, and future studies with the fan.
For solo performances and choreography, David uses a range of contemporary music with special, personal meaning, and blends belly dance techniques with elements of hip-hop and other ethnic dance styles that make for one-of-a-kind experiences. Power and grace seem to flow naturally within his movements and his playful attitude engages every audience.
David's costumes, developed with the assistance and creative skills Chase Potter, are interpretations of varied ethnic styles which are often combined in basic ATS ensembles. Additionally, he has or is in the process of developing a number of themed ensembles that include: ancient Egyptian, Native American Indian, medieval Renaissance Faire, Pretty Pokeman/Dirty Manga.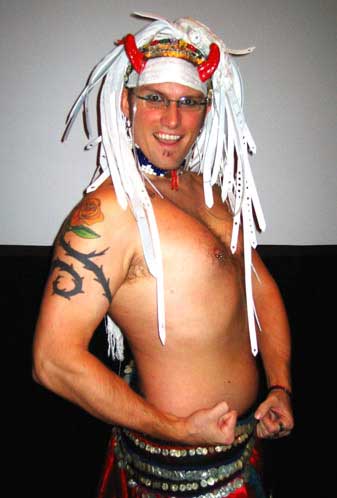 Photo by Libby Bulloff