Ancestry in Progress:
New School & Old School Belly Dance Using the Suhaila Salimpour Technique
Saturday, March 22, 1-5 pm
Panache Dance Studio
325 E Winslow Rd, Bloomington, IN 47401
Ancestry in Progress: Belly Dance Basics
This workshop provides an overview of basic belly dance with modern elements using the innovative Suhaila Salimpour technique. There will be an emphasis on posture, muscular isolations and traveling. Additionally modern dance concepts, layering and transitions, as well as a range of new school tribal fusion stylizations are emphasized. Workshop will also explore Jamila Salimpourís old-school earthy style with powerful movements along with Jamila inspired dance combinations. Workshop concludes with a lecture and discussion on "The History of Belly Dance in America and Jamila's Influence".
Class is for all levels from total beginner to professional.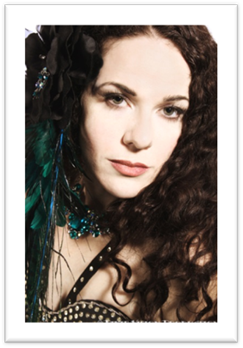 About the instructor, Kandice Grossman
Kandice began studying the art form of belly dance as a teen and has studied with the nationís most renowned teachers including Suhaila Salimpour, Rachel Brice, Kami Liddle, Zoe Jakes, Sharon Kihara, Kajira Djoumahna, Jill Parker, Dalia Carella, Aruna, Amy Sigil and many more. She is a level 3 certified dancer with the Suhaila Salimpour School of Dance and level 2 certified Jamila Salimpour dancer. She is a performer in Suhaila's current re-enactment of Jamila's original Bal-Anat. Kandice is currently working toward her level 4 certification with the renowned Suhaila Salimpour School of Dance in Berkeley, CA. Kandice founded Moon Belly Dance and TheDragonFlies Belly Dance companies in Columbia, Missouri.
Learn more about Kandice Grossman at her Website.
Workshop Cost: Pre-Paid: $49; At the Door: $55.
PayPal fee to ddbdancers@gmail.com. Credit cards, PayPal, and cash accepted at door.
For registration/more information, contact Margaret Lion at 812-360-0549 or ddbdancers@gmail.com.

Workshop Schedule

12:30-1:00pm - Registration

1:00-1:45pm - Belly Dance Basics - Introduction to Belly Dance and the Suhaila Technique

1:45-2:00pm - Break

2:00-2:45pm - Belly Dance Basics - Continuation with the Suhaila Technique

2:45-3:00pm - Break

3:00-3:45pm - Belly Dance Basics - Introduction to Jamilia Choreography

3:45-4:00pm - Break

4:00-4:45pm - Lecture and Discussion: "The History of Belly Dance in America and Jamilia's Influence"

4:45-5:00pm - Break/Continued Discussion. End of Workshop